EARLY CHILDHOOD CENTERS, SCHOOL AGE CHILD CARE AND AFTERSCHOOL PROGRAMS
When deciding on a program for your school age child, it is important to consider the kaleidoscope of different options for youth ages 5 to 18 as it relates to program selection. A parent of a very young school age child might find comfort and consistency in transitioning their youth into an older classroom at an early childhood center where they have received care since infancy. An older schoolager might connect better with a program at school or at a library. A middle school youth might find the types of activities and social aspects desired at a YMCA or a Boys and Girls Club. A high school student may be ready to explore the career connections offered by a local entrepreneurial club.
Regardless of the type of program you seek, it's important to think about the right "fit" for your child. Read on to learn more about selecting a program for your child.
---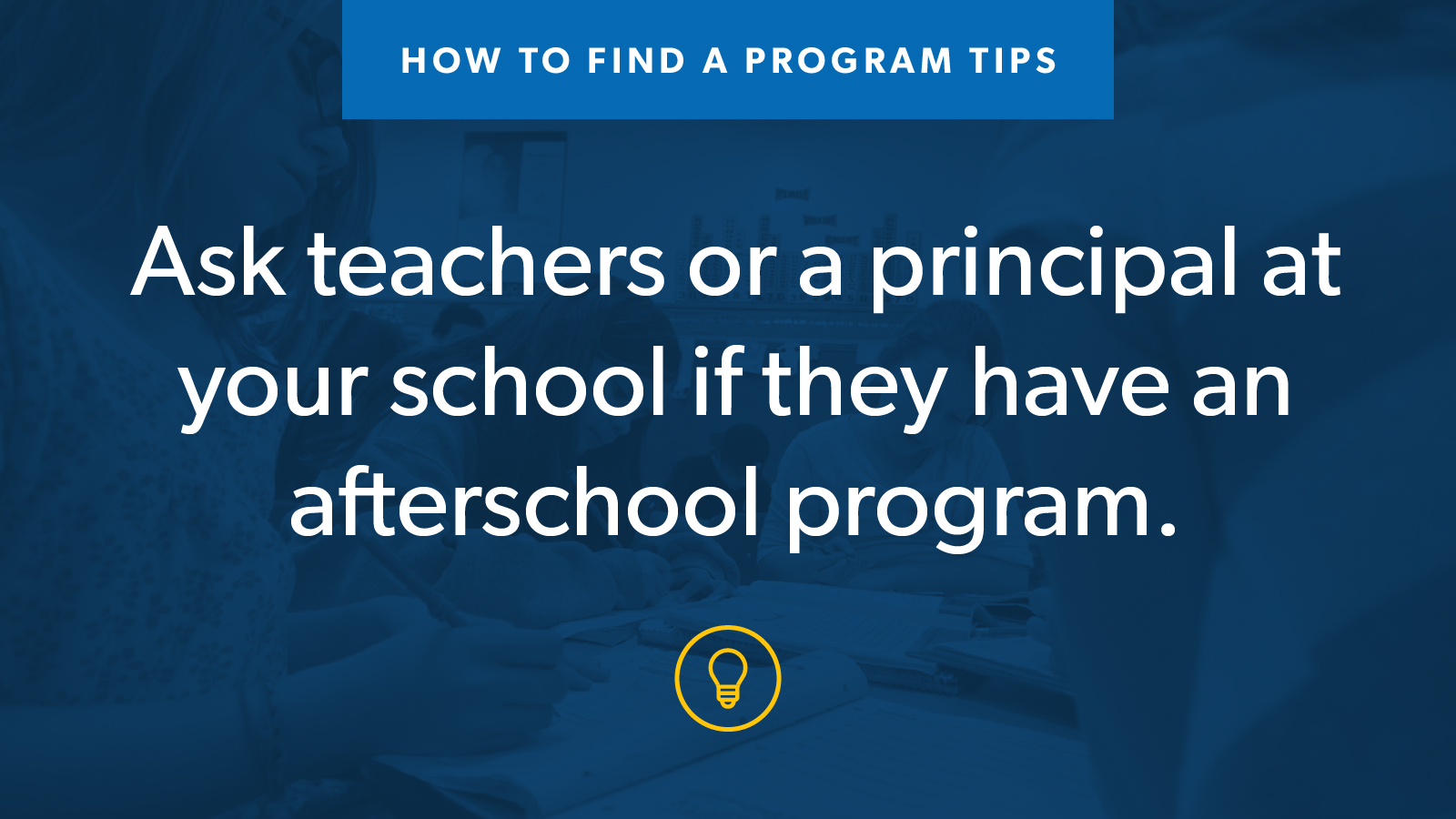 WHAT IS THE "RIGHT" PROGRAM FOR MY CHILD?
Finding the *right* Afterschool Program for your family
Afterschool programs expand learning
opportunities for young people of all ages. Afterschool is a creative, fun space that engages kids in hands-on activities, helps them explore new interests, and learn exciting new things. Quality programs are tailored to meet students' different academic, physical, and social-emotional needs.
Here's a guide to help you pick the right program for your kids. What To Look For In A Program
Also see Child Care Aware's article, What To Look For in a Quality Afterschool Program
---
FINDING PROGRAM OPTIONS
Tips from the Afterschool Alliance: How To Find A Program
Here in Ohio, the Ohio Child Care Resource and Referral Association may be able to help!
More options can be found HERE.
---

LICENSED CHILD CARE IN OHIO
ODJFS LICENSED PROGRAMS – The Ohio Department of Job and Family Services is responsible for licensing Afterschool or School Age Child Care (SACC) programs operated by child care centers, child day camps, and Types A and B homes. For more information on finding a ODJFS licensed School Age Child Care program, click here.
ODE LICENSED PROGRAMS – The Ohio Department of Education is responsible for licensing school-age child care (5yrs- 14yrs) programs operated by public schools, educational service centers, community schools, boards of developmental disabilities, and chartered nonpublic schools with multiple grades above kindergarten. For more information on finding an ODE licensed Afterschool or School Aged Child Care (SACC) program, click here.
21st CCLC PROGRAMS IN OHIO – 21st Century Community Learning Centers (CCLC) are federally funded Afterschool programs that provide an opportunity for children who come from economically disadvantaged families and attend low-performing schools to receive academic supports. School districts, schools, community-based organizations, including faith-based organizations, institutions of higher education, city or county government agencies, for-profit corporations and other public or private entities may host a 21st CCLC Afterschool program. For more information on finding a 21st CCLC Afterschool program, click here.
---
---