By Erin Murphy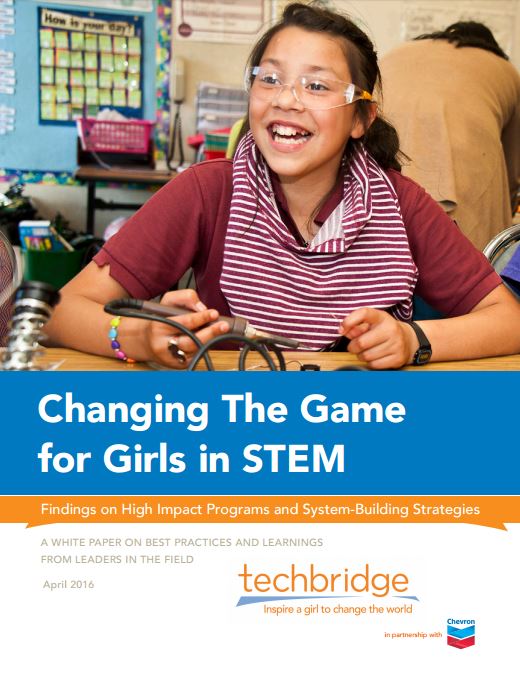 A new white paper from the nationally-recognized STEM education provider Techbridge calls for a more sophisticated approach to engaging girls in STEM. Across the U.S., girls are growing up in cities and regions bustling with innovation, yet many do not consider careers in science, technology, engineering and math (STEM) due to lack of encouragement and opportunity. Meanwhile, STEM jobs are growing at an unprecedented rate, and companies are scrambling to build diversity in their workforce. Closing the opportunity gap for girls, especially for girls of color, will open up a tremendous untapped pool of talent.
Disappointingly, many previous and ongoing efforts to engage girls and minorities in STEM have had a hard time moving the needle. This paper draws upon Techbridge's 16 years of experience in successfully improving outcomes for girls in STEM, as well as interviews from STEM education leaders in order to spotlight the most effective ways to foster diversity and inclusion in the workforce. The paper reveals two broad strategies to engineer a revolution in STEM diversity:
Design with diverse girls and communities in mind. Make sure to understand who will be in your program and customize programming and curriculum. Girls from different communities will have different wants and needs. Program designers should listen to the voices from the communities they serve.
Strengthen the girl-centric ecosystem. There are many factors that will influence the likelihood of girls to pursue STEM, so building strong community partnerships is key. Embrace an ecosystem approach and build partnerships between programs and families. Additionally, build relationships between programs and STEM industries to train female role models who can work with girls.
Based on these broad strategies, Techbridge recommends four next steps necessary to support girls in STEM:
Shift the funding model. Currently funders expect clear youth outcomes from programs, however this can be difficult for informal STEM providers due to the diversity of program types and goals. By allowing a more flexible funding model, education providers can iterate more quickly and creatively.
Foster collective impact. To effectively diversify the workforce, we need to work together using a dedicated collective impact approach.
Empower organizations to conduct rigorous, longitudinal, culturally responsive evaluation and research. High-quality evaluation and research increase our knowledge of evidence-based practices, inform continuous program improvement, and make it easier to advocate for afterschool STEM to funders and policy makers.
Invest in communities. Corporations should coordinate efforts using existing networks and organizations as a vehicle for change, as running STEM initiatives in isolation will never have large scale impacts.
To learn more about how to change the game for girls in STEM, check out the full white paper from Techbridge
---
---